Patricia Gonzalez Giving Back:
Someone Believing in You Makes All the Difference

The Bessie Morris Foundation took the opportunity to catch up with Patricia Gonzalez, the 2010 winner of the Prom Dream scholarship, which provides assistance to high school students who might not be able to attend their prom with their own resources. Patricia has been making great strides in her education and her career since then.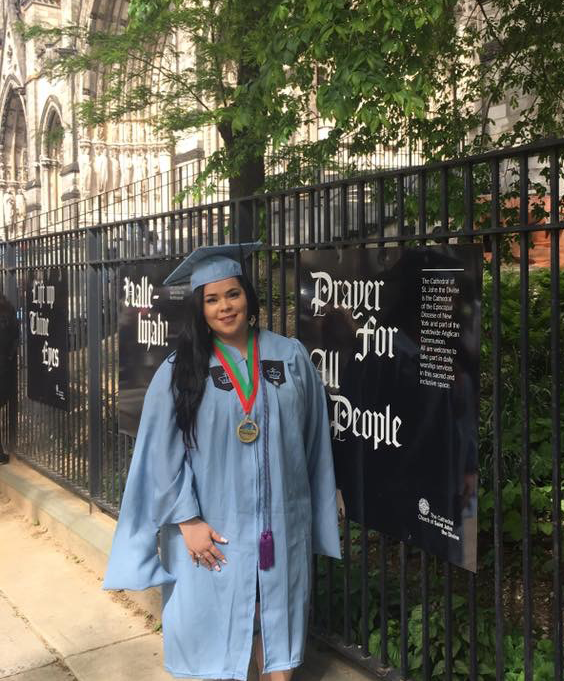 Patricia at 2017 Columbia University Master's Graduation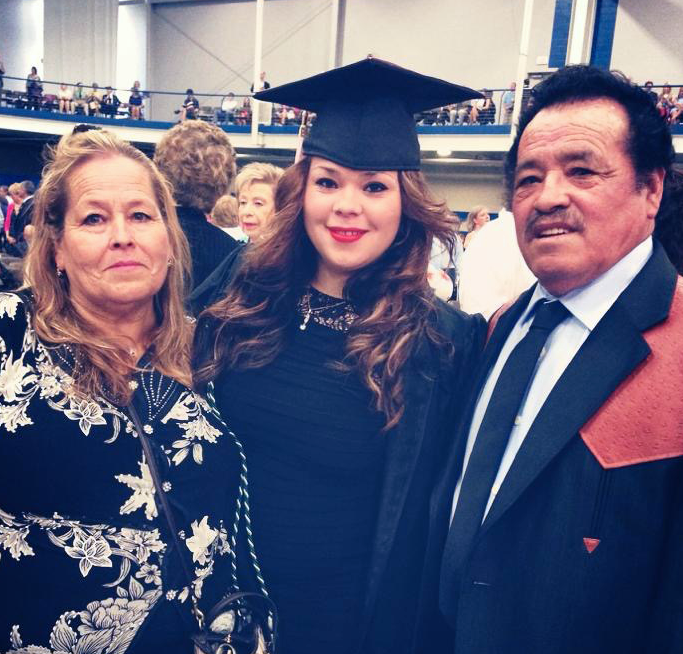 Franklin and Marshall Graduation with proud parents
Having been an active leader during her own high school years, Patricia puts building student leadership at the top of her list of life goals.
Patricia credits her parents, both immigrants from Mexico, for her deep commitment to education. Her mother had finished her own schooling in 8th grade; her father in 3rd. They were determined to have Patricia and her siblings all graduate from high school. Patricia did that, and then some.
Life was sometimes challenging when Patricia was growing up in south Los Angeles. If the electricity was out at home, her mother instructed Patricia to stay late at John C. Fremont High School, which was only a block away, to study and do homework.
School was a safe haven for Patricia. There were working lights, a meal to eat, and teachers who cared about her. Once outside the school gates, life was not as predictable or protected. Spending so much time at school, Patricia started to notice everything else that was available to her there beyond academics. She discovered a real sense of community and found many ways to get involved. She served in a wide variety of roles:
Student Body President
Cheerleading squad captain
Peace (student peer) ambassador program
Link crew leader (incoming freshman-upper classman mentorship)
Community Coalition: South Central Youth Empowerment through Action (SCYEA) representative for Fremont HS to improve public education
FRE-YEA: Fremont Youth Empowerment through Action
At age 16, shortly after being a victim of gun violence, Patricia first learned of Ivory Freemen, founder of the Bessie Morris Foundation. Mr. Jauregui, the teacher of her Leadership class, told Patricia, then the Student Body President, that Ms. Freeman had brought him some flyers about a prom dress scholarship program. Mr. Jauregui asked Patricia to get the word out to the student body and to promote the scholarship to the other senior girls.
With two daughters in high school, Patricia's parents could not afford to outfit them both for the prom. But not only did Patricia want to go to the prom, she also hoped to run for Prom Queen. Passing out the Prom Dream flyers, she thought that she herself qualified and decided to apply.
As part of the selection process, Patricia went through both a phone and an in-person interview with Ivory. "It was the first time I had been challenged by being interviewed. But Ivory believed in me, automatically. When someone else believes in you, you believe in yourself."
Ivory asked 2006 Prom Dreams recipient Letisia Alvarado to call Patricia and congratulate her on being selected for 2010. Letisia was attending U.C. Berkeley, where Patricia was participating in the summer Pre-Collegiate Academy with UC Berkeley (PCA) for high school scholars committed to academics. Letisia shared with Patricia what she had learned on her own journey. Another wonderful, valuable connection was made.
Patricia met the other 2010 Prom Dream Scholarship recipients on the day they all shopped together for prom dresses. She was delighted to reunite with two of her middle school friends, Lisa Berry and Breanna Wells, who had also been selected.
The Prom Dreams Scholarship helped provide Patricia with a prom ticket, a dress, shoes, jewelry, a manicure, a hair salon appointment, and even pictures. She felt beautiful! And Patricia was elected Prom Queen. How extra special! She felt so supported by her entire high school community, as well as the Bessie Morris Foundation.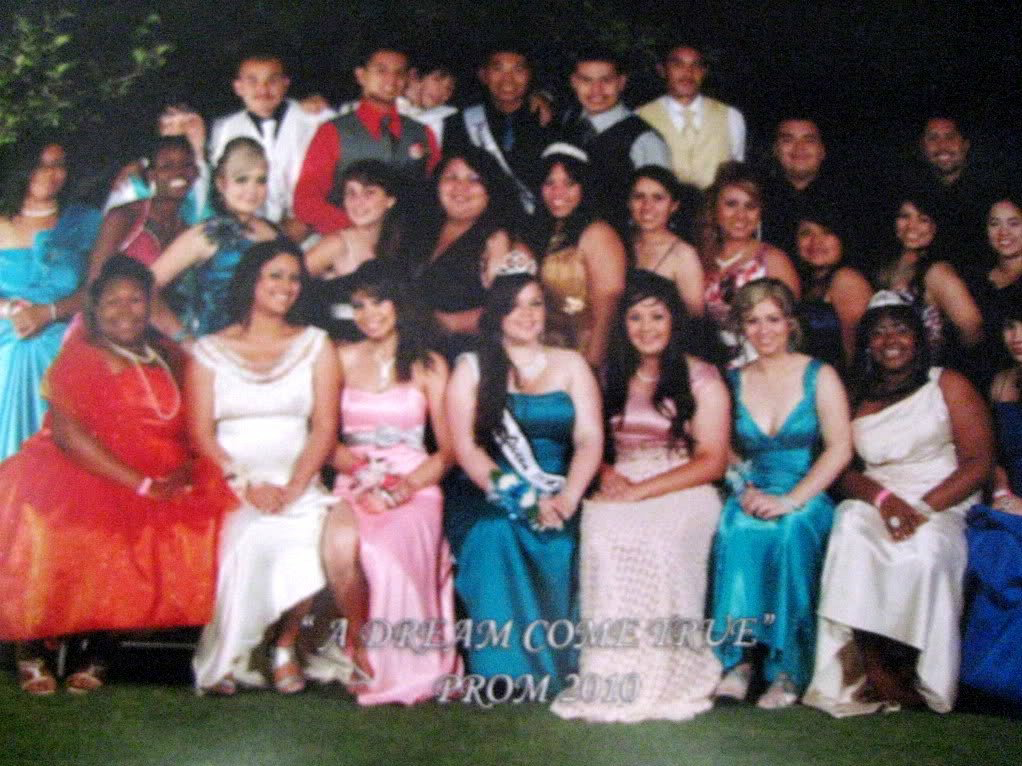 Patricia applied to 13 colleges and universities and was accepted by all of them. Her top pick was U.C. Berkeley. However, she never really seriously considered private school because of the expense. That changed when she read the acceptance letter from Franklin and Marshall College, the only non-local college she had visited. The letter was so personalized, and receiving it was so special. With the combined Gates Millennium, William Gray, and One Voice Scholarships she'd won, Patricia could attend Franklin and Marshall.
Patricia double-majored in Government and Philosophy, with the intention of going to law school.
After earning her bachelor's degree, Patricia worked for two years as a college advisor for National College Advising Course in a Pennsylvania high school, and fell in love with education. She could see herself as a dean or a president of a college. So Patricia pursued her Masters in higher education at Teachers College Columbia University. She graduated three weeks ago.
Patricia received an excellent job offer in Pennsylvania, but decided to move back home to Los Angeles to help her ailing parents.
She now has a summer job as the Site Coordinator for the Children's Defense Fund Freedom Schools in Los Angeles, which seeks to build strong, literate, and empowered children prepared to make a difference in themselves, their families, their communities, the nation, and the world. "We are training servant leader interns to help the children stay engaged during the summer.
"I am searching for my dream job in student affairs, multicultural affairs, and student leadership development because I know being involved helps. Being involved is what got me through college and my Masters program. And, as with the mentorship I received from Ivory, I can make a difference to my students by believing in them. Ivory Freeman and the Bessie Morris Foundation helped me to believe in myself. When someone believes in you, you can see yourself doing greater things.
"Ivory Freeman attended my high school graduation. Velma McClinton, Ivory's friend and a Bessie Morris Foundation mentor and sponsor, attended my college graduation. Ivory stays in touch with me and my family. It means the world to me that I can pick up the phone and share with her what's going on in my life. I not only gained a mentor, I found a true friend."